What's On

Rhyl Town Council Christmas window dressing competition 2020 is OPEN!
If your business window is full of festive sparkle and shine then we'd love to hear from you.
Click here for more information

---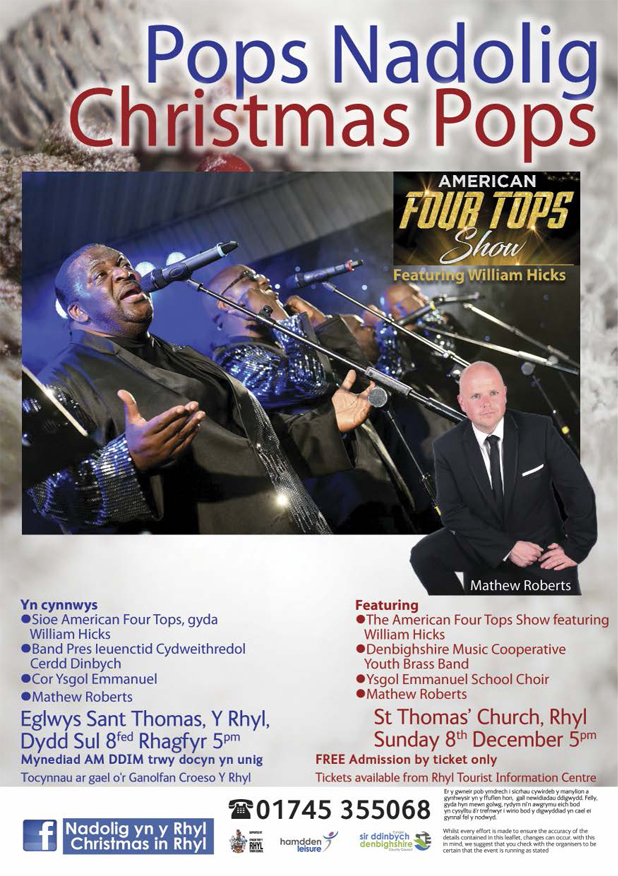 Motown comes to Rhyl town for festive Chistmas Pops extravaganza
2019's annual Christmas Pops concert being held in Rhyl will have a distinct soulful feel this year– with the American Four Tops Show performing a medley of motown classics to get people in the festive mood.
William Hicks from Atlanta Georgia, the creative genius behind the show will have people rocking in the aisles with hits such as through all the hits of the Four Tops including Reach Out, Baby I Need Your Loving, I Can't Help Myself ( Sugar Pie ), Standing In The Shadow, Bernadette, Walk Away Rene all the way to going Loco in Acapulco, along with plenty more music from that golden era including songs of the Temptations, the Drifters, Smokey Robinson and the Miracles, the Stylistics, Ben E King and Stevie Wonder.
Soul Satisfaction's AMERICAN FOUR TOPS have appeared alongside original soul and Motown legends such as the Stylistics, the Three Degrees, Martha Reeves, the Temptations, the Drifters and are truly world class!
The concert line-up also includes vocalist / host Mathew Roberts – Performing a variety of music including sounds from the swing era and some contemporary numbers from the likes of Michael Bublé and Jamie Cullen also appearing will be Ysgol Emmanuel Choir and the Denbighshire County Youth Brass Band.
The annual concert, organised by Denbighshire County Council, in partnership with Rhyl Town Council, will be staged at St Thomas' Church, Rhyl on Sunday, 8th December from 5pm.
Jamie Groves, Managing Director of Denbighshire Leisure Ltd, said: "We are delighted to have secured such a great line up and the event has been long established as a way of kick starting the Christmas celebrations.
"We would encourage people get into the festive spirit and secure their free ticket for this prestigious event".
Rhyl Town Clerk Gareth Nickels said: "Rhyl's Christmas pops is always a real crowd-pleaser and having the Four Tops Motown Show performing live will top off a great run-up to the festive season.
"Rhyl Town Council is supporting three events this December – the lights switch on, a children's party, and the Christmas Pops which means there is something for everyone. We're also thrilled that Ysgol Emmanuel Choir will be with us for the Christmas Pops, supporting local talent."

Click here for more information

---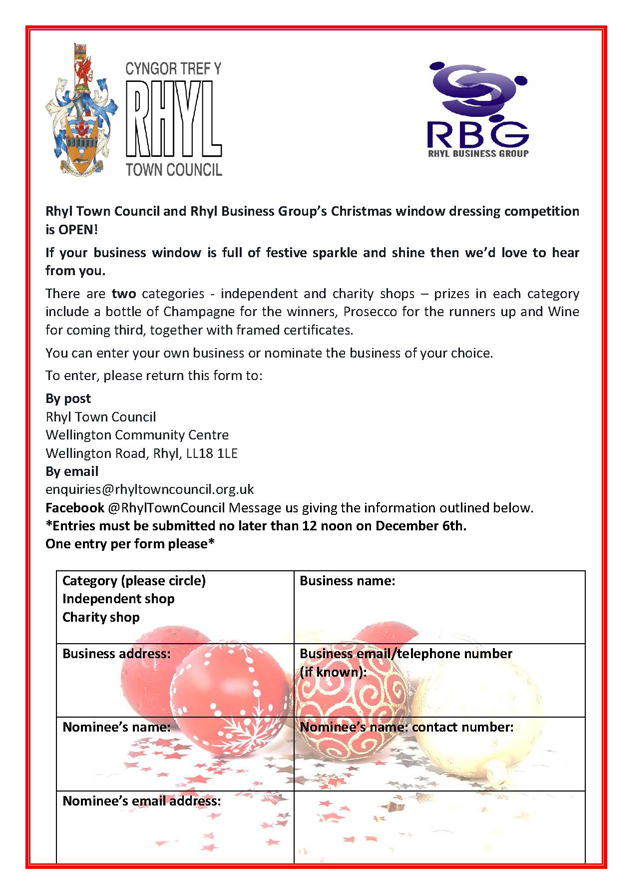 Rhyl Town Council and Rhyl Business Group's Christmas window dressing competition is OPEN!
If your business window is full of festive sparkle and shine then we'd love to hear from you.
Click here for more information

---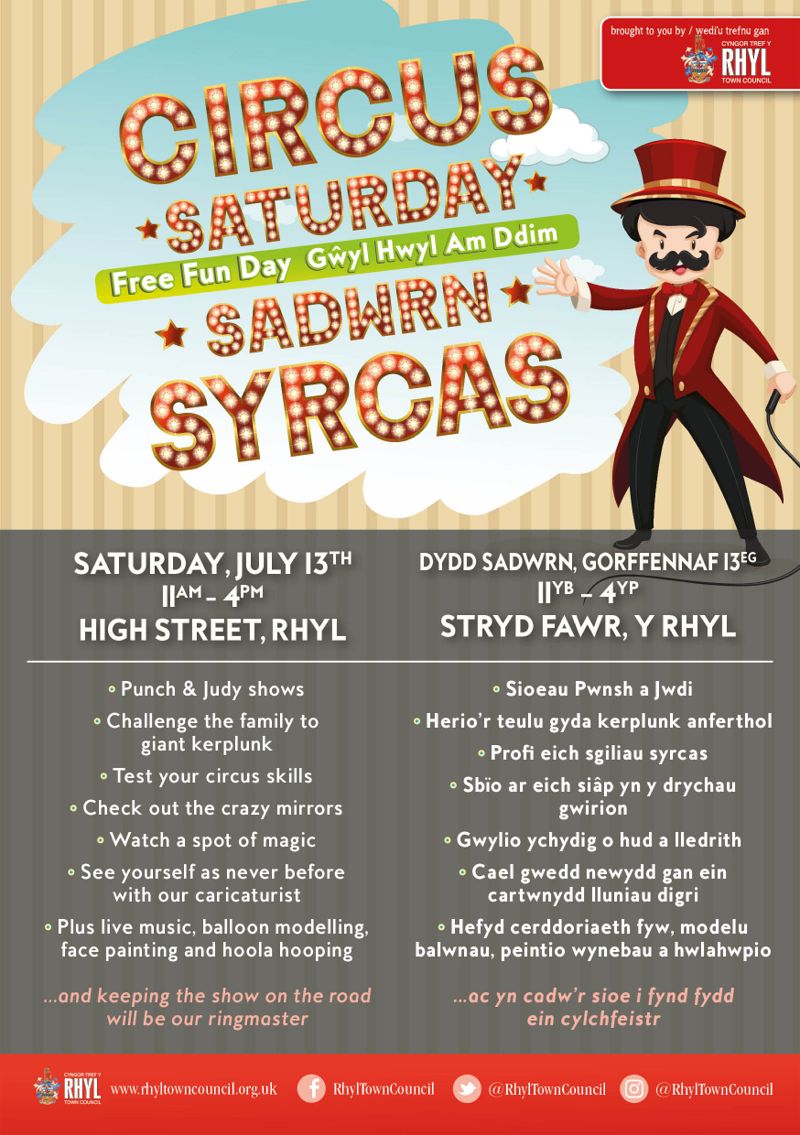 Circus Saturday - Free Fun Day

13/07/19 - 11am-4pm
High Street, Rhyl
Click here for more information

---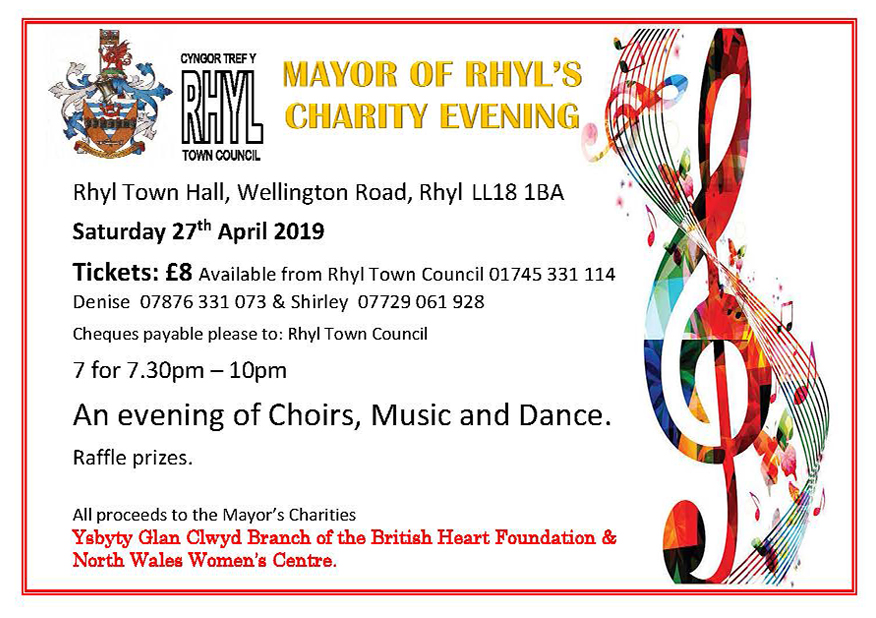 Mayor of Rhyl's Charity Evening

Rhyl Town Hall, Wellington Road, Rhyl LL18 1BA
Saturday 27th April 2019
Click here for more information

---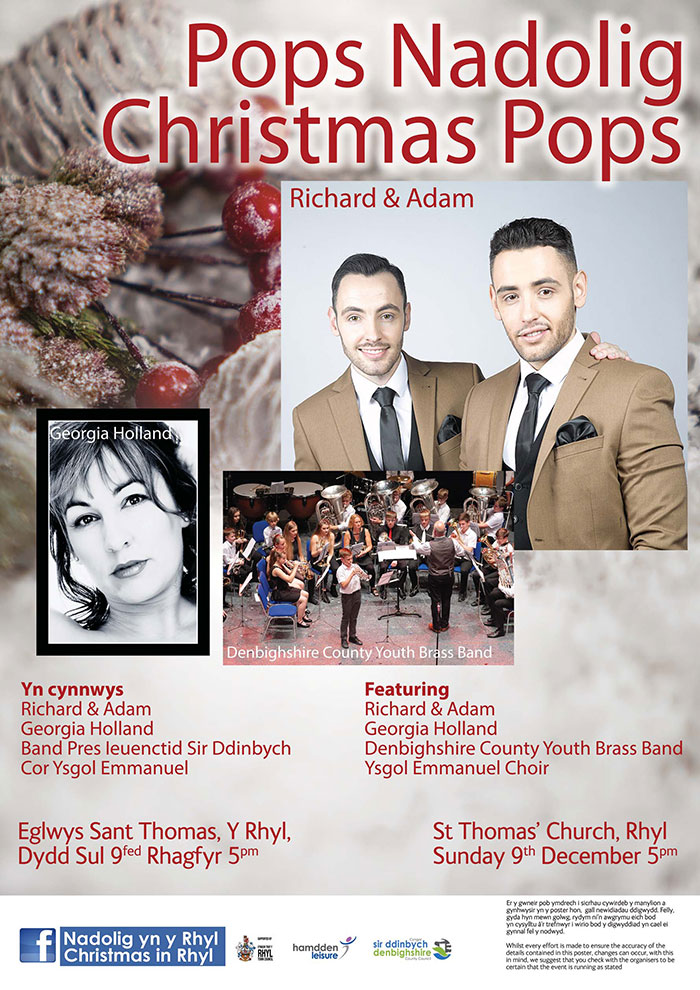 Christmas Pops
Sunday 9th December 5pm
Click here for more information

---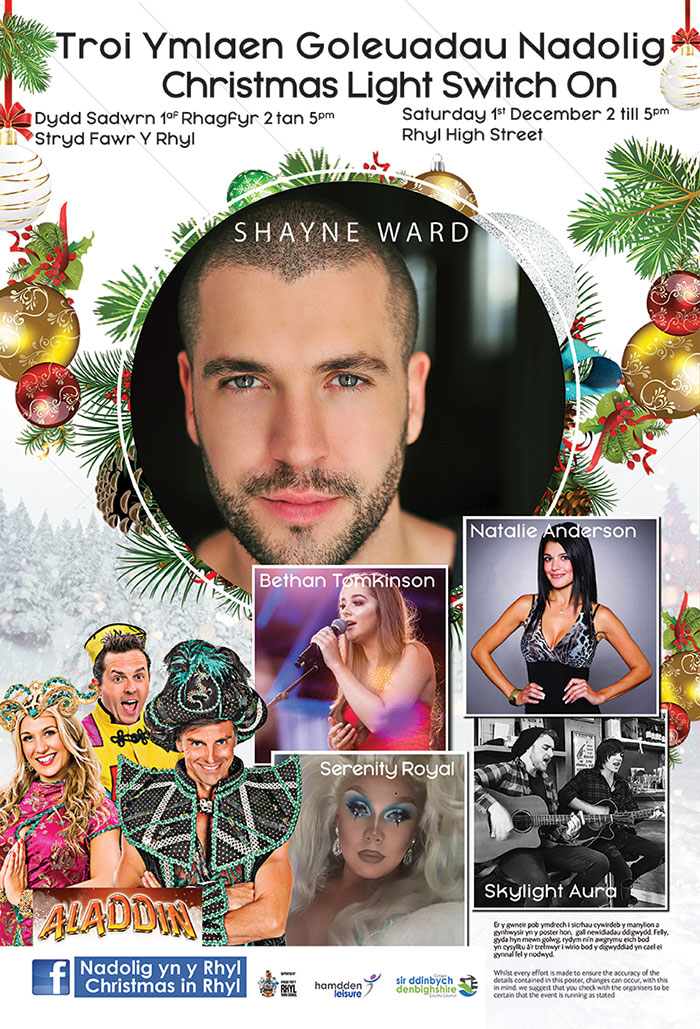 Christmas Light Switch On
Saturday 1st December 2 till 5pm
Click here for more information

---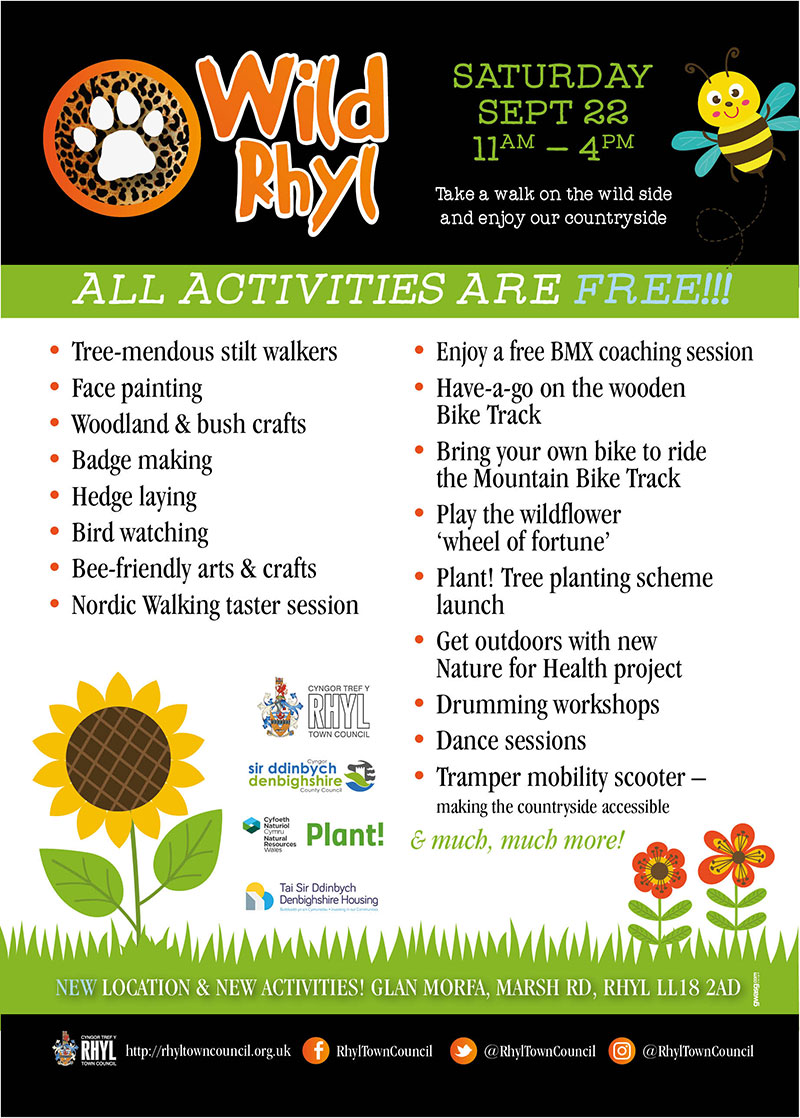 Wild Rhyl
Saturday 22 September - 11am-4pm
Click here for more information

---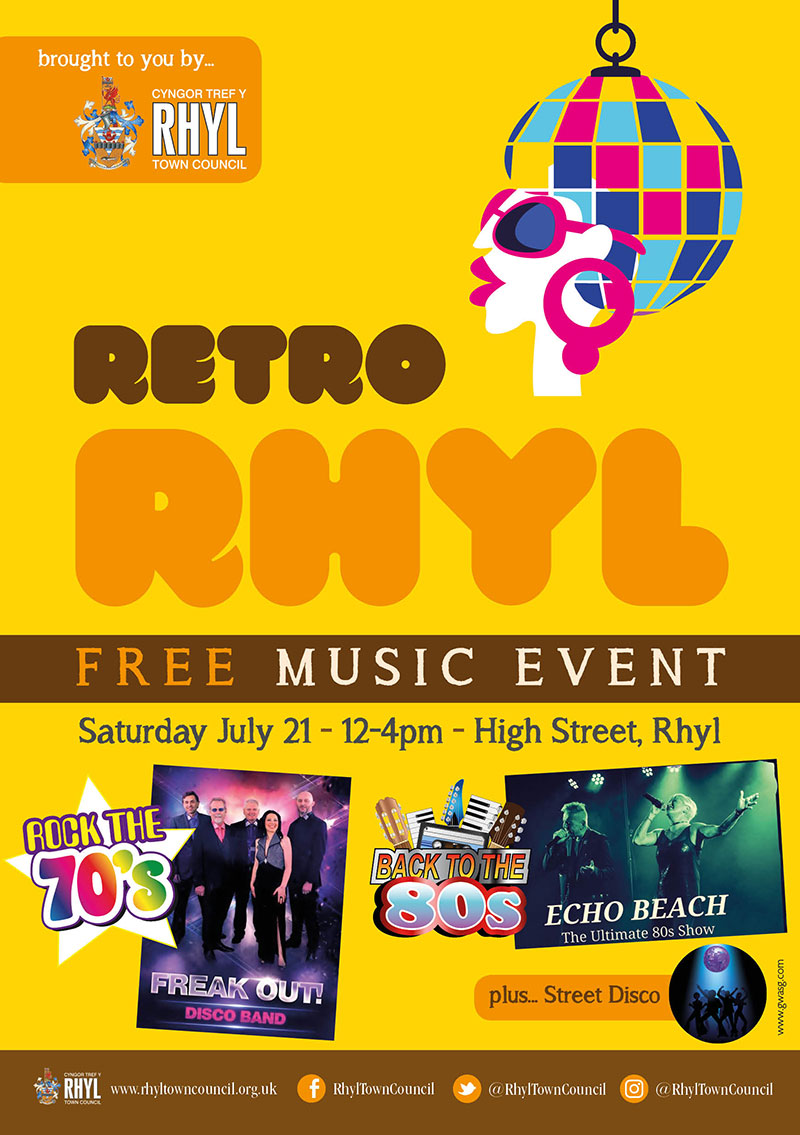 Retro Rhyl
Free Music Event
Saturday 21 - 12-4pm - High Street, Rhyl
Click here for more information

---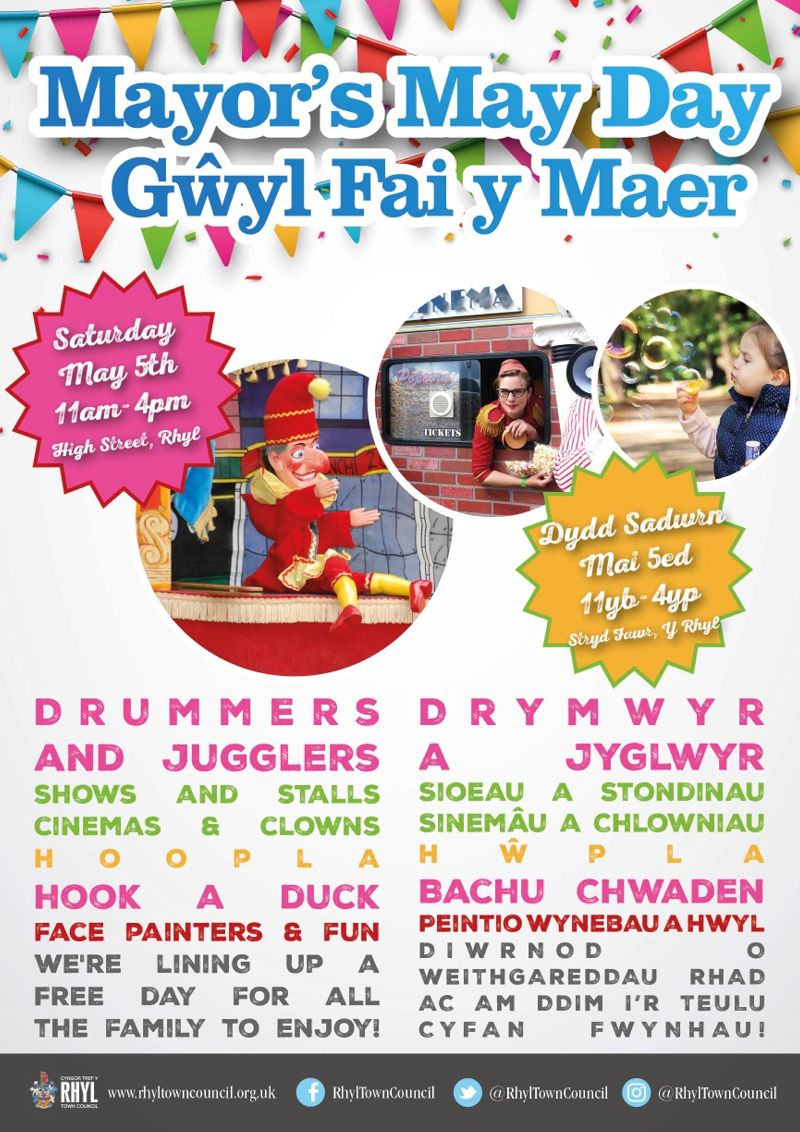 Mayor's May Day
Saturday May 5th
11am - 4pm
High Street, Rhyl
Click here to view more information

---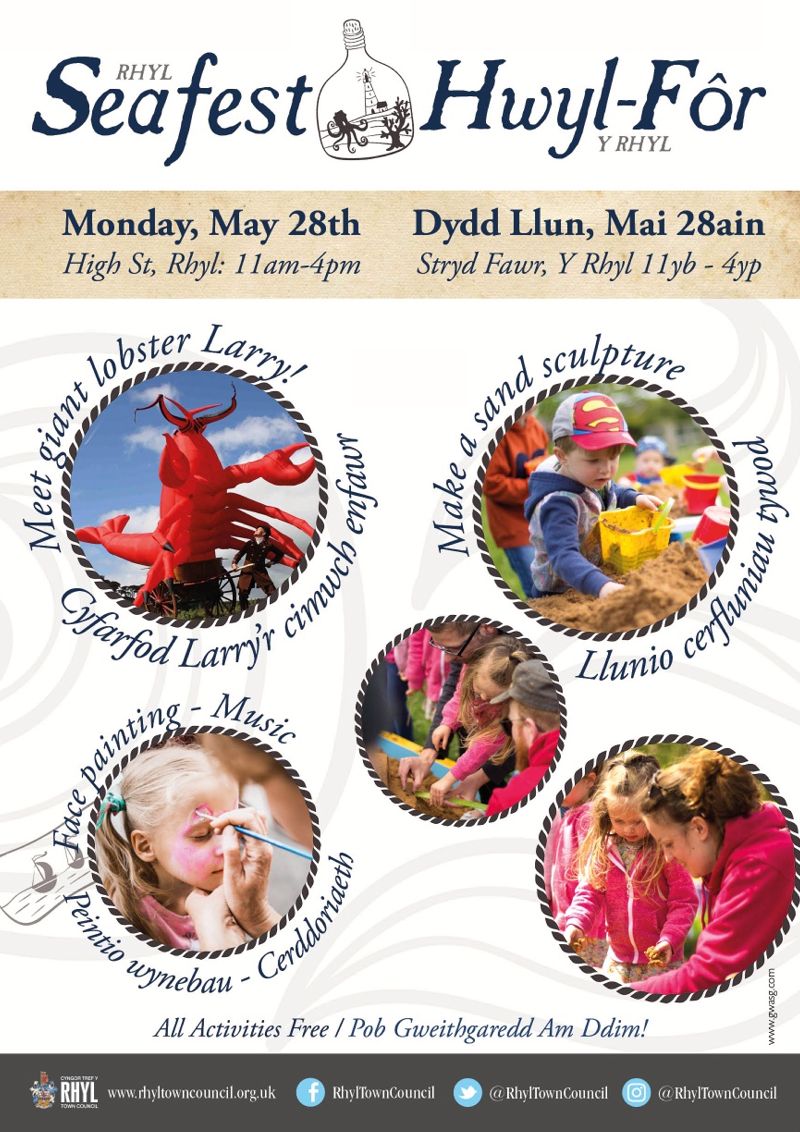 Seafest
Monday May 28th
11am - 4pm
High Street, Rhyl
Click here to view more information

---
Events
Rhyl Town Council has its own community events programme and also lends its support to others in the area.
Upcoming Rhyl events include:
Rhyl Community Events 2018
From giant lobsters, live music, to have-a-go experiences, here's a taster of our 2018 timetable of events.

Monday April 2 | 11am-3pm | Rhyl High Street
Come and meet giant Easter bunnies. Free giveaways.

Saturday May 5 | Mayor's May Day | 11am-4pm | Rhyl High Street
Enjoy traditional games, a solar cinema, stilt walkers, circus skills, Punch 'n' Judy, & more

Monday May 28 | Seafest | 11am-4pm | Rhyl High Street
Celebrate Visit Wales Year of the Sea with:
Make your own sand sculptures with Sandinyoureye
Face painting with Miles of smiles by Bernie
Meet Larry, the giant inflatable lobster & more

Saturday July 21 | Retro Rhyl summer music | 12noon-4pm |Rhyl High Street |

Saturday September 22 | Wild Rhyl |Glan Morfa, Marsh Road, Rhyl with Denbighshire Countryside Service11am-4pm

Saturday December 8 | Free film showings | Rhyl Town Hall | Film and times TBC

---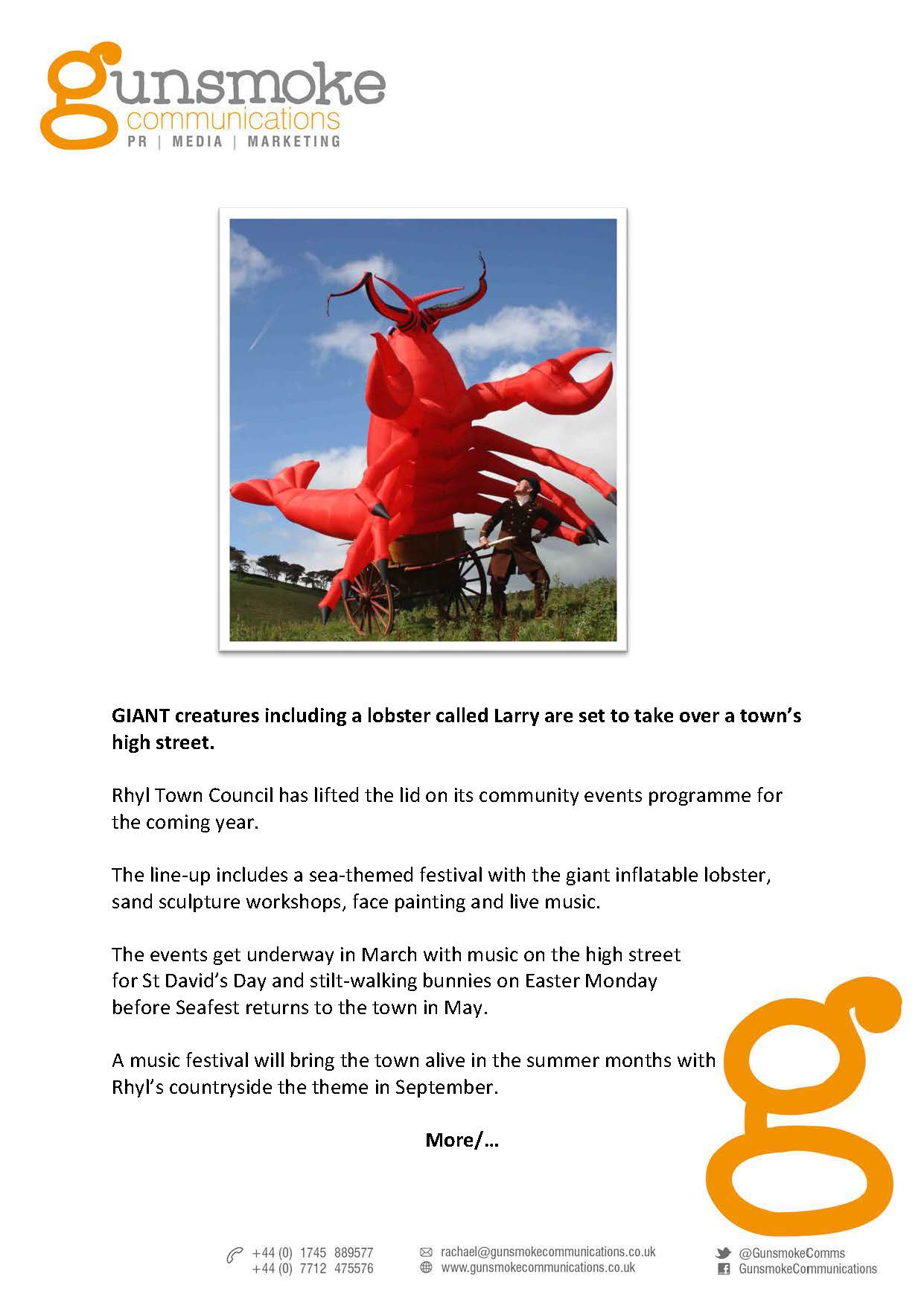 Rhyl Events 2018
Click here to view more information

Past Events
If you're planning an event and want to tell us about it then do share it with us socially:

For event support and queries, drop a line to enquiries@rhyltowncouncil.org.uk