Mayor
Rhyl Mayor 2023-2024
Councillor Ms Jacquie McAlpine
Newly Elected Mayor To Prioritise Social Cohesion.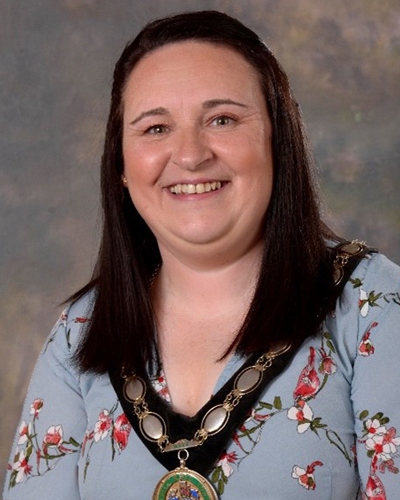 At Rhyl Town Council's Annual General Meeting on the 10th of May Members of the Council voted to elect Cllr Ms Jacquie McAlpine as Mayor for the forthcoming year.
Representing Bodfor ward Cllr McAlpine works locally and has a close and supportive family of four girls.  Her Consort for the year will be friend and business owner in the town Ms Charlotte Taylor-Smith.  With Reverend Chris Spencer kindly taking on the role as Mayor's Chaplin.
Cllr McAlpine is acutely aware of the strain the cost-of-living crisis and after affects the global pandemic has caused and aims to narrow this gap to build a more cohesive community.
Commenting Cllr McAlpine said: "I am extremely conscious of the struggles and hardships faced by members of our community and aim to champion all the organisations and groups helping the most vulnerable to bring about a sense of inclusivity and social cohesion to all who reside in our town.
This ethos is reflected in Cllr McAlpine's two chosen charities for the year: Rhyl Benefit Advice Shop a free walk-in advice centre offering advice and support on a range of benefits and secondly Rhyl Sea Cadets who offer a career pathway to young people from diverse backgrounds to take on exciting challenges building self-confidence.
The Mayor's Honour Cadet for the year will be Rhyl Sea Cadet Peter Clayton with Sophie Hill the Reserve Honour Cadet.
Councillor Ms Cheryl Williams takes on the role of Deputy Mayor with Mrs Ann Jones as her Consort.