What's On
Events
Rhyl Town Council has its own community events programme and also lends its support to others in the area.
Upcoming Rhyl events include: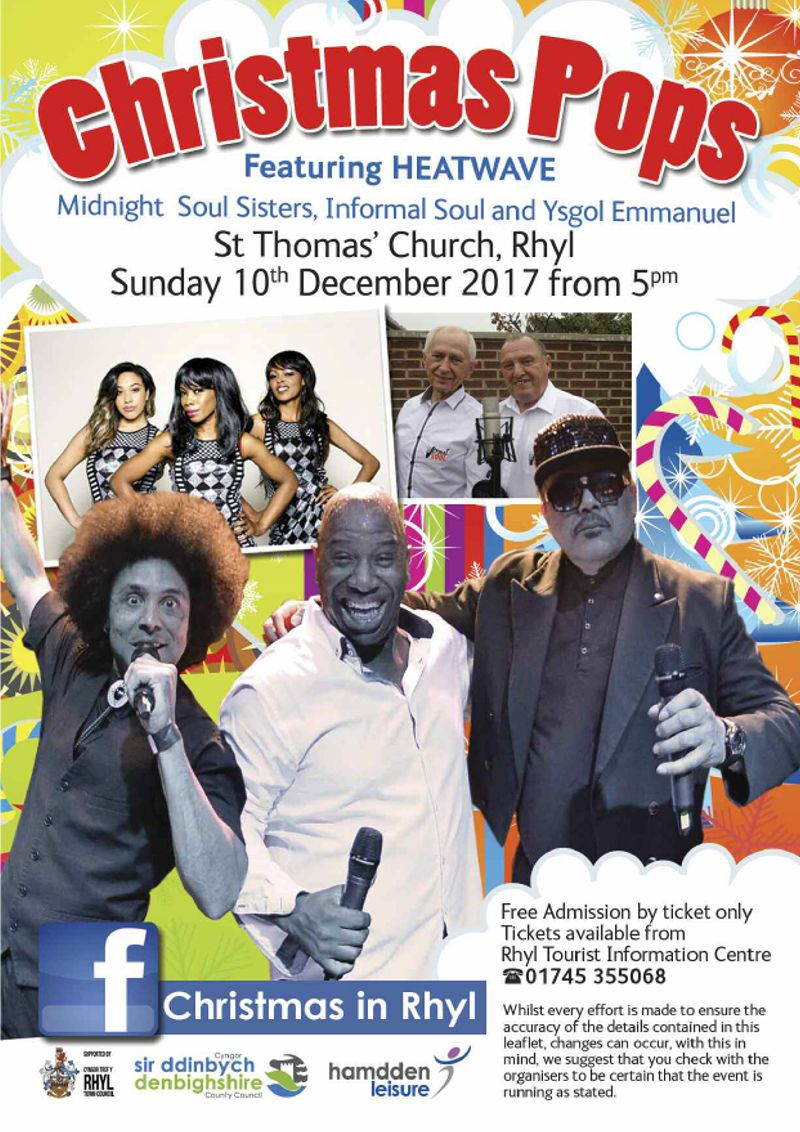 Christmas Pops 2017
St Thomas' Church, Rhyl
Sunday 10th December 2017 from 5pm
Free Admission by ticket only
Click here to view more information

---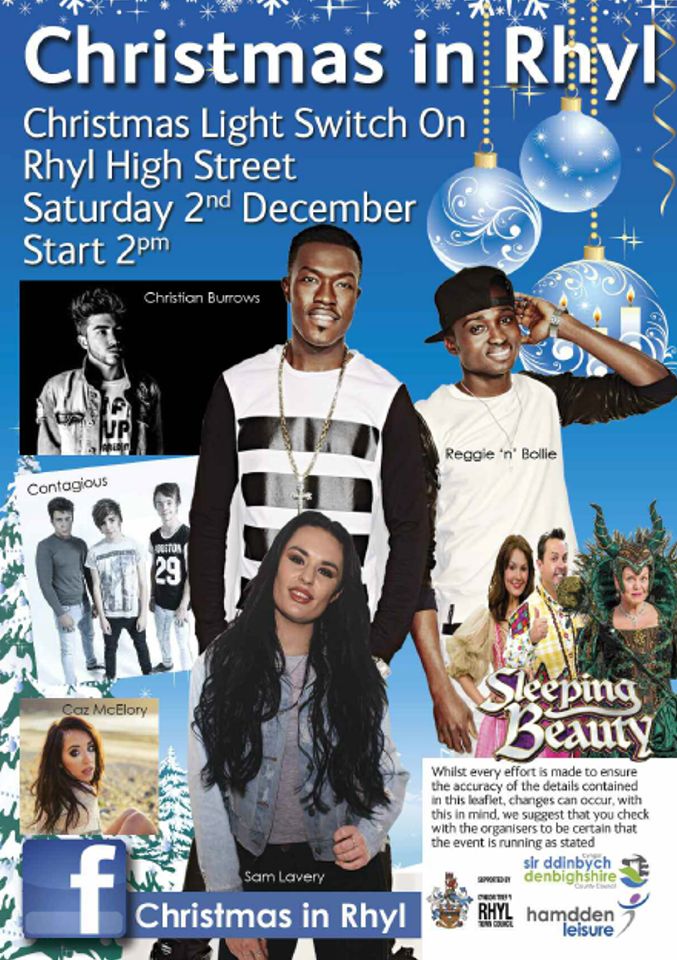 Rhyl's Christmas Light Switch On
Saturday December 2
The entertainment will start on the High Street at 2.30pm and finish with a short firework finale at 5.00pm.
Click here to view more information

---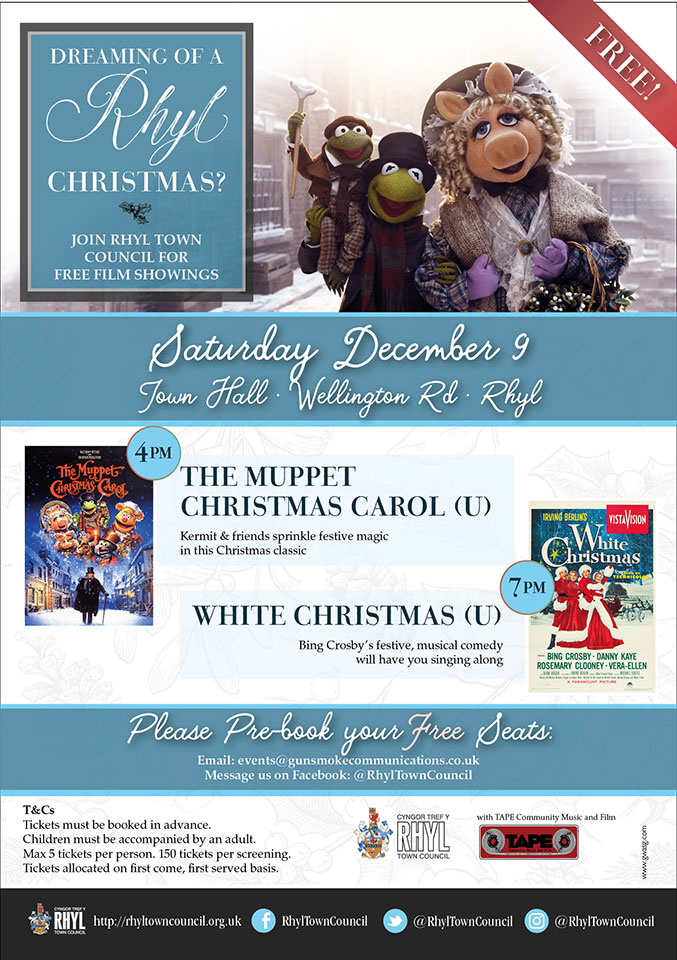 Dreaming of a Rhyl Christmas
Saturday December 9
Town Hall, Wellington Road, Rhyl
Click here to view more information

---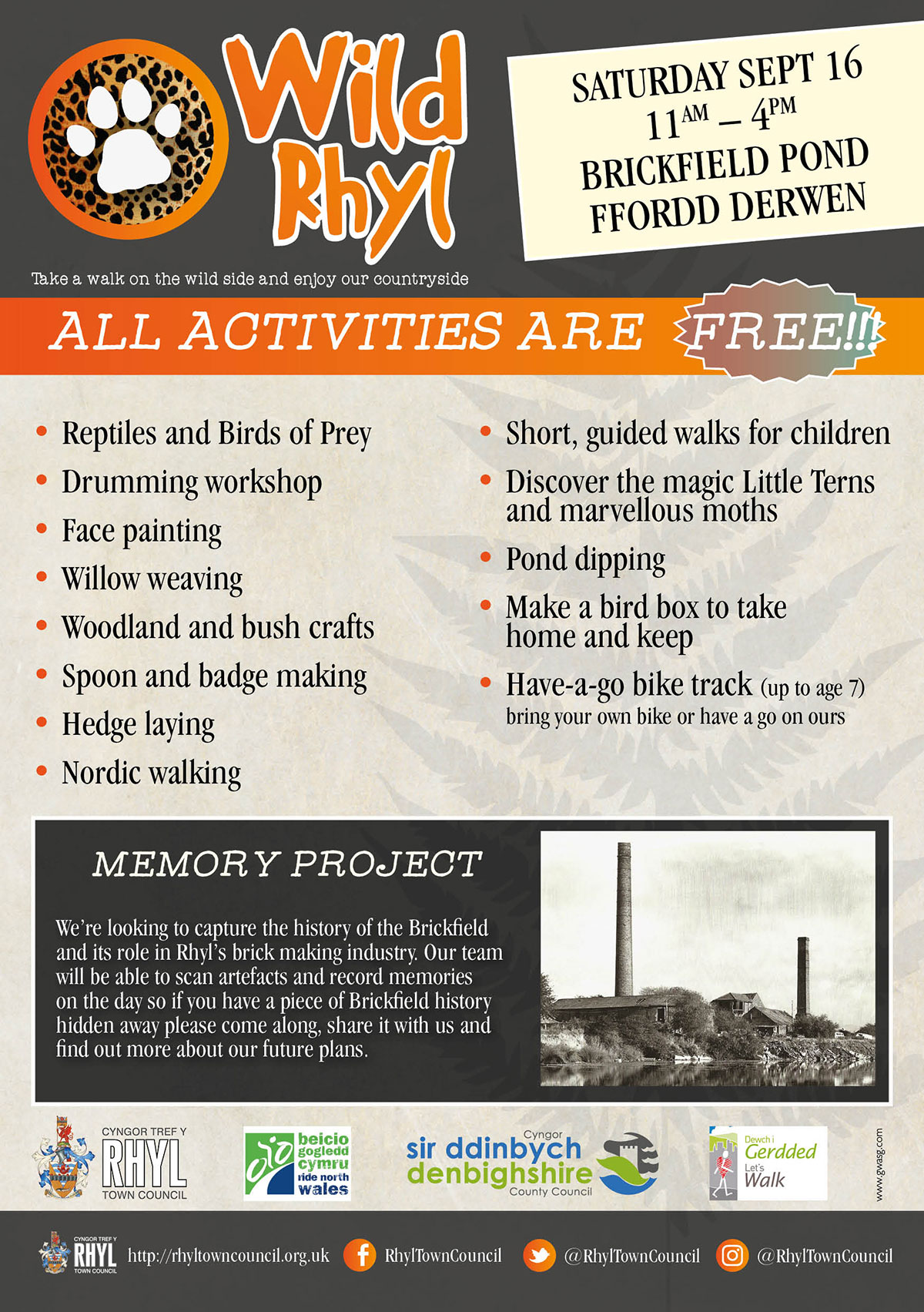 Wild Rhyl
Saturday September 16
11am - 4pm
Brickfield Pond
Ffordd Derwen
Click here to view more information

---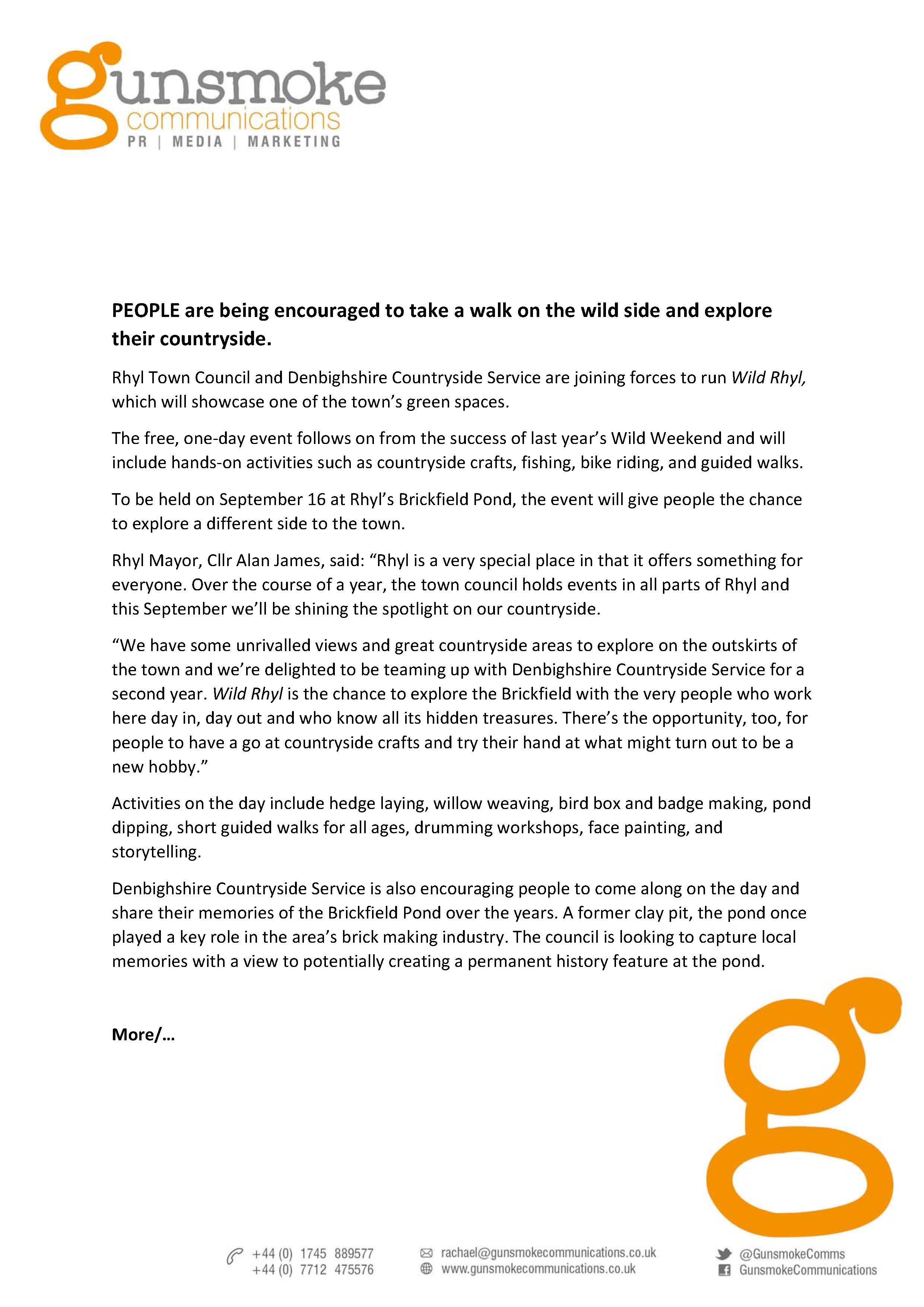 Wild Rhyl
PEOPLE are being encouraged to take a walk on the wild side and explore their countryside.
Rhyl Town Council and Denbighshire Countryside Service are joining forces to run Wild Rhyl, which will showcase one of the town's green spaces.
The free, one-day event follows on from the success of last year's Wild Weekend and will include hands-on activities such as countryside crafts, fishing, bike riding, and guided walks.
To be held on September 16 at Rhyl's Brickfield Pond, the event will give people the chance to explore a different side to the town.
Click here to view more information
---
A TOWN will turn back the clock to mark its place in musical history.

As The Beatles iconic Sgt Pepper's Lonely Hearts Club Band album turns 50, Rhyl's High Street is to be transformed into Beatles Street.
On Saturday July 14 1962, The Beatles played in Wales for the first time, heralding the start of Beatlemania. Their first Welsh gig - at Rhyl's Regent Dansette Ballroom, now home to Burton and Dorothy Perkins - lasted an hour with tourists and locals entertained for just five shillings.
A blue plaque marks the building where The Beatles performed and now local
tribute band, The Cavernites, will take to the stage in the town's high street on
Saturday July 15 to remember the historical day.

Click here to view more infromation
---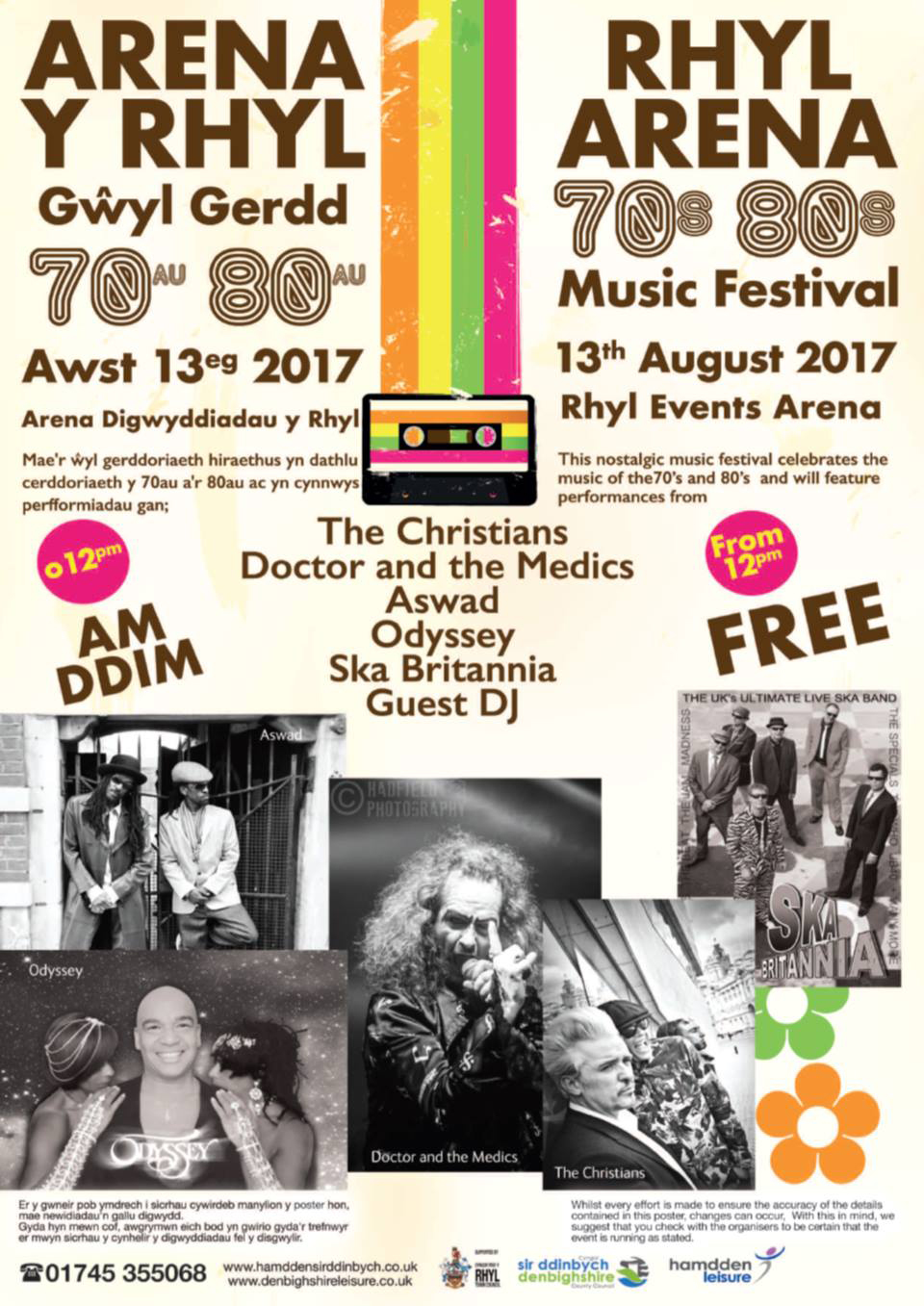 Music Festival 70s and 80s
August 13th 2017
Rhyl Arena
Click here to view more information
---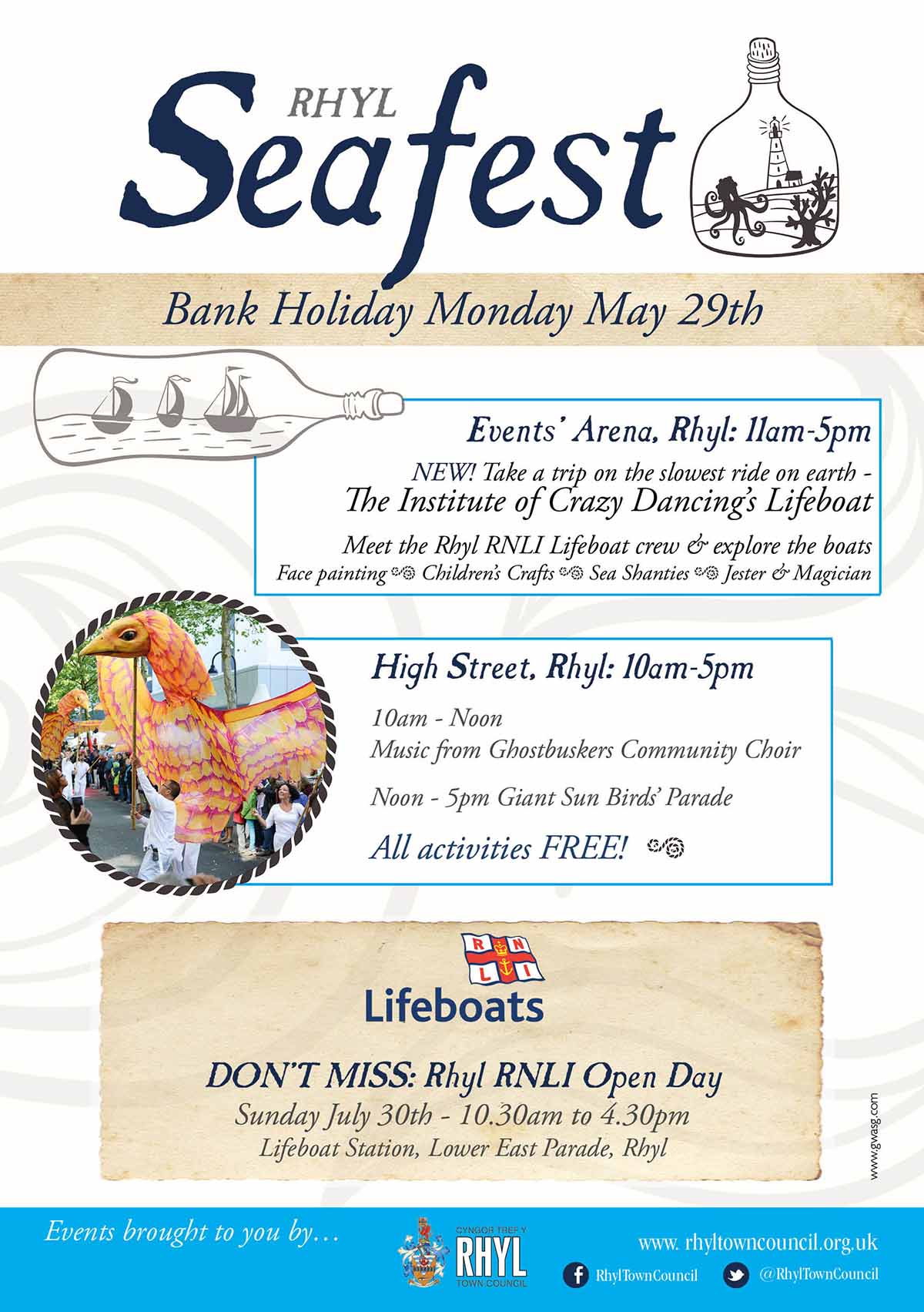 Rhyl Seafest
Bank Holiday Monday May 29th
Events Arena Rhyl: 11am-5pm
Click here to view more information

---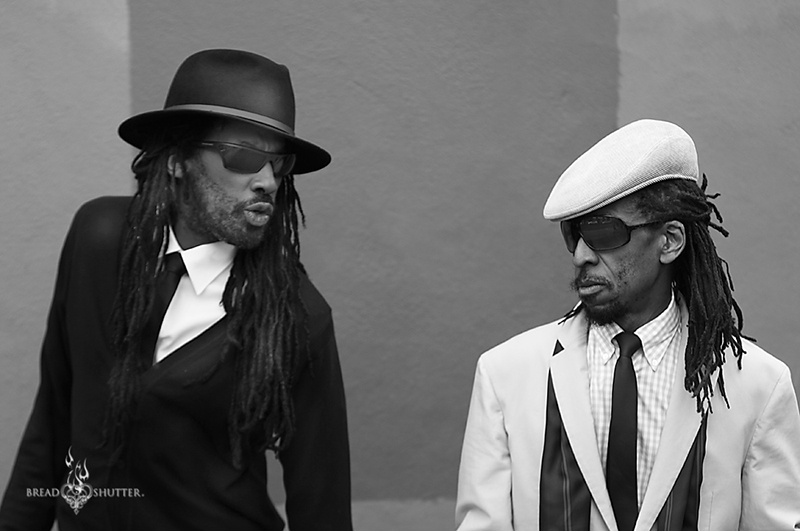 Stars of the 70's and 80's are coming to Rhyl Arena for Nostalgia Fest 2017
Celebrate the music of the 70's and 80's at Nostalgia Fest being held at the Rhyl Events Arena on Sunday 13th August, 2017, 12.00 noon until 6.00 pm. This is a free event and will bring event goers right back to the good times they had growing up with some iconic bands of the decade including The Christians, Dr and The Medics, Aswad, Odyssey, and tribute band Ska Brittania. Other bands are yet to be announced.

---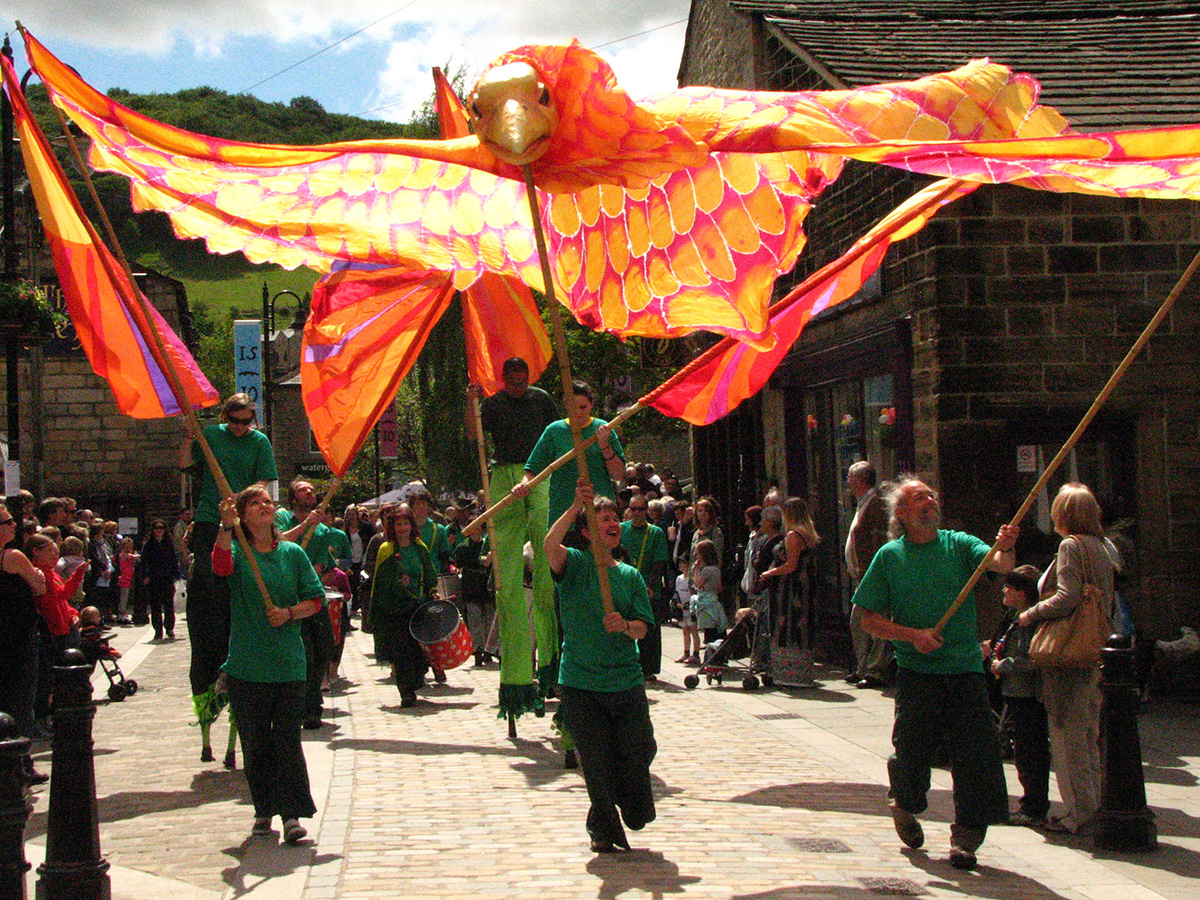 Rhyl Events
From the slowest ride on earth to the jingle bells of Christmas, there's lots of fun to be had in Rhyl in 2017. Explore & Enjoy.

May
Monday 29th
Seafest
High Street, Rhyl: 10am-5pm
10am - noon Music from Ghostbuskers
Noon - 5pm Giant Sun Birds' Parade
Events' arena, Rhyl: 11am-5pm
NEW: Take a trip on the slowest ride on earth - the Lifeboat
Meet the Rhyl Lifeboat crew and explore the boats + other great activities
July
Saturday 15th 12noon-4pm
High Street, Rhyl
Beatles Street
Live music & more
Celebrate the day The Beatles played in Rhyl with The Cavernites tribute band & more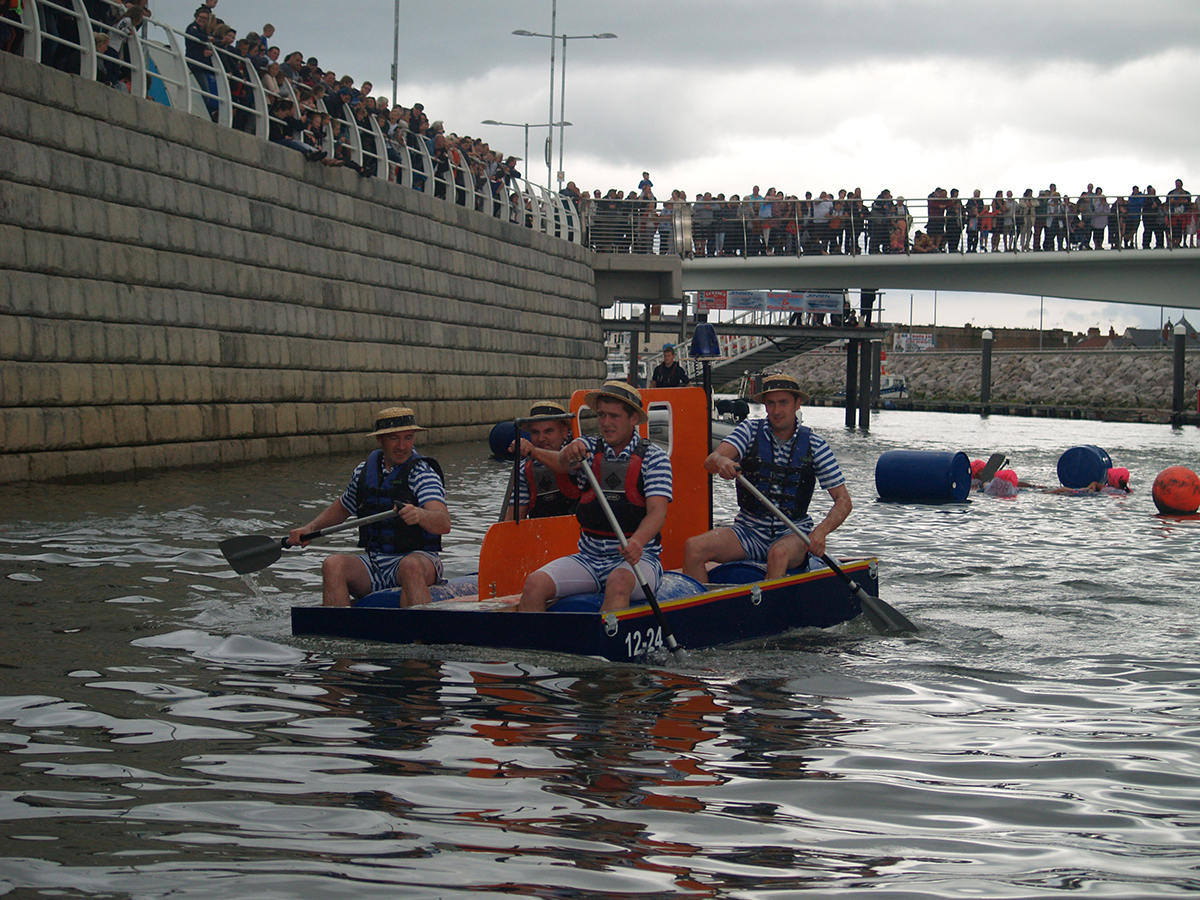 Sunday July 30. Rhyl RNLI Open Day - 10.30am to 4.30pm. Lifeboat station, Lower East Parade, Rhyl.
August
Sunday 13th Approx 1:15pm - 4:15pm
Rhyl Lifeboat Harbour Raft Race
Saturday 26th & Sunday 27th
Rhyl Air Show
October
Halloween - details coming soon!
December
Saturday 9th
Free film showings at Rhyl Town Hall
For event updates and info
Facebook: RhylTownCouncil
Twitter: @RhylTownCouncil
For info in Welsh: www.rhyltowncouncil.org.uk
---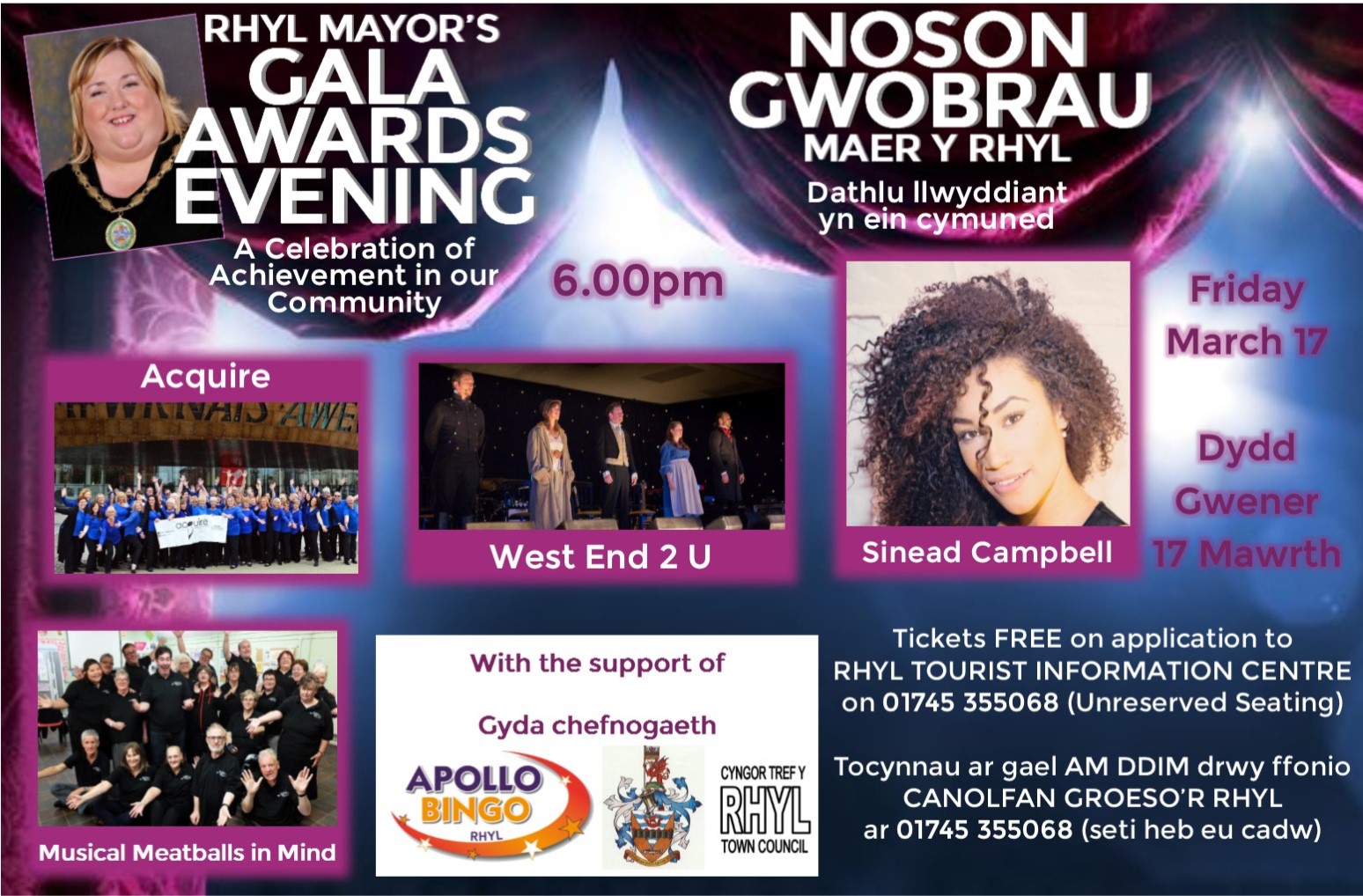 Awards Evening
Rhyl Mayor's Gala Awards Evening. Friday March 17 at 6pm, Pavilion Theatre, Rhyl.
Click here to view the poster

---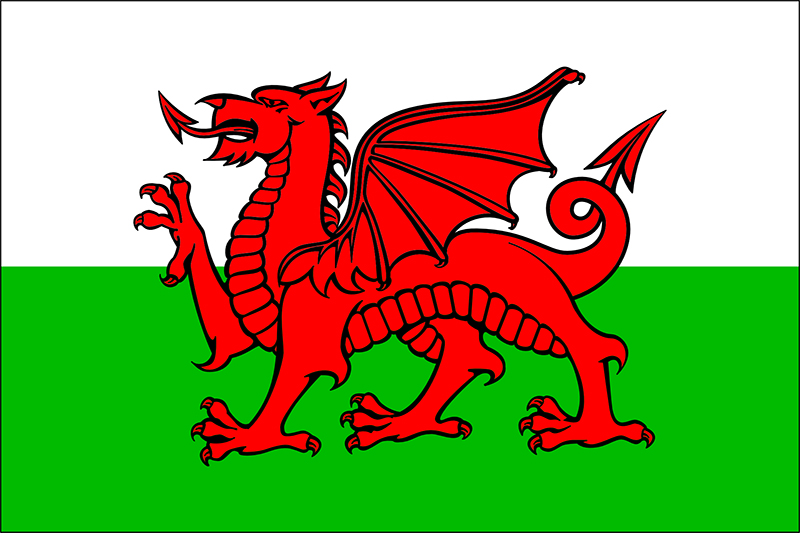 Rhyl Town Council will be flying the flag for St David's Day.
Visitors to Rhyl will be receive a greeting with a difference at the town's bus and train stations on March 1.
A choir will perform for passengers who will also be given a Welsh flag.
The town council will be joined by the Ghostbuskers Community Choir. The choir includes members from Rhyl and proved a hit when they played in the town at Christmas.
Passengers will be met outside the train station between 9am-11am on St David's Day.

---
12 Days of Christmas

Click on the images for more information
---
Rhyl's Christmas Lights Switch

The festive countdown has begun in Rhyl as the date and line up for the official Christmas light switch on has been announced.

Joining them are 'The Birds', a walkabout animal act where giant birds with stunning fanned tails entertain and inspire audiences with their amazing light effects - click here to see video

Click here for more information
---
Bonfire & Fireworks Display
Showfield, Rhuddlan Road, #Rhyl
Saturday November 5 @ 7.30pm with North Wales Fire and Rescue Service and Rhyl Town Council Cyngor Tref Y Rhyl

---
Rhyl Air Show
Saturday 27th & Sunday 28th August 2016, Rhyl Promenade, 12pm - 5pm.
This action-packed event returns for another year with a full programme including the Red Arrows.
Sponsored by Rhyl Town Council, admission to the event is free.
---
Seaside Soul
Sunday 21st August, noon until 6pm.
Join us at the Events Arena for music from iconic stars of three golden eras featuring Midnight Soul Sisters, The Real Thing, Still Drifting featuring Ray Lewis, Jimmy James and the Vagabonds and guest DJs.
---
Rhyl's Wild Weekend
September 17
Explore Rhyl's countryside and beaches during our fun-filled day.
---
December 1-24
We've a surprise in store for Christmas. Keep an eye here and follow us on Facebook and Twitter to find out more.
Christmas Pops – Sunday 4th December
Venue and times TBC
---
St David's Day
March 1
Celebrate our national day in style with activities around town.
---
If you're planning an event and want to tell us about it then do share it with us socially:

For event support and queries, drop a line to enquiries@rhyltowncouncil.org.uk